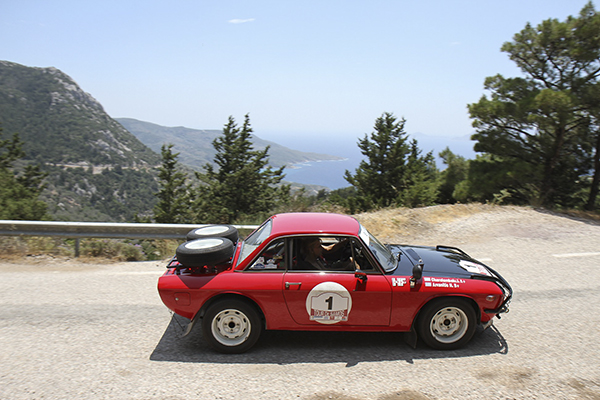 «Summertime and the living is easy» τραγουδούσε ο Louis Armstrong. Πράγματι καλοκαιρινό (…αλλά καθόλου εύκολο) ήταν το TdS του 2019… Στην οργάνωση, ο γνωστός συνδυασμός που έχει λειτουργήσει άψογα στο παρελθόν, ΑΛΑΚ και ΤΡΙΣΚΕΛΙΟΝ με την βοήθεια των τοπικών Σαμιωτών.
38 πληρώματα βρέθηκαν στον Παλαιό Λιμένα Καρλοβασίου, την Παρασκευή απόγευμα, 14 Ιουνίου, έτοιμα για τον Διοικητικό Τεχνικό Έλεγχο με τον ήλιο να δύει ρίχνοντας ένα έντονο κόκκινο πορτοκαλί φως πάνω στα οχήματα. Μαγική εικόνα…Το βράδυ, όλοι καλεσμένοι στο φιλόξενο Samian Mare, της οικογένειας Ελένη, χορηγό της εκδήλωσης για το δείπνο υποδοχής πληρωμάτων και οργάνωσης.
Πρωί Σαββάτου, στις 11:00 η αφετηρία από το νέο Λιμένα Καρλοβασίου. Διαδρομή προς Μαραθόκαμπο όπου και η πρώτη Δοκιμασία Ακριβείας. Συνέχεια με Κουσμαδαίους, Αγίους Θεόδωρους και η εντυπωσιακή από τοπία και γρήγορη ΕΔΑ στο Λιμνιώνα πριν την μεσημεριανή ανασυγκρότηση στους γραφικούς Δρακαίους. Συνέχεια με την ΕΔΑ Δρακαίοι και τέλος η ΕΔΑ Καστανιά πριν την λήξη του Α' σκέλους στο Καρλόβασι. Δείπνο στο Μουράγιο, στη προβλήτα του Λιμένα με πολλά πηγαδάκια και χαμόγελα.
Κυριακή πρωί, εκκίνηση και διαδρομή προς Βαθύ. Πονηρή η πρώτη ΕΔΑ στο Κοκκάρι. Συνέχεια με την ΕΔΑ Μυτιληνιοί και Χώρα, Μαυρατζαίοι πριν την ανασυγκρότηση στην φιλόξενη Μονή Τιμίου Σταυρού. Συνέχεια με την «μεγάλη» ΕΔΑ των Σπαθαραίων και τερματισμός στο Πυθαγόρειο. Εκεί, τα οχήματα σε παράταξη στην κεντρική οδό με τους επισκέπτες και κατοίκους να φωτογραφίζουν και να θαυμάζουν το μοναδικό θέαμα!
Απονομή στο Καρλόβασι, με τα οχήματα σε παράταξη γύρω από το βάθρο των νικητών, Γενικής και Κατηγοριών. Άξιοι πρώτοι οι συνήθεις ύποπτοι, Νίκος Αρβανίτης και Ιωάννα Χαραλαμπάκη με Lancia Fulvia Coupe 1,3s του 1972. Δεύτεροι, οικογενειακή συμμετοχή, ο Αρης Γεωργοσόπουλος με την Ελένη Παπανικολάου και τις μικρές Έλση και Μαρίζα με Lotus Eclat του 1984. Την τριάδα συμπλήρωσαν οι «τοπικοί» Γιώργος Κατσούρης και Γεωργία Παπαργυρού με Datsun 240Z.
Χαμόγελα και πειράγματα, συμπλήρωσαν το όμορφο σκηνικό της απονομής με το κέφι να συνεχίζεται στο δείπνο απονομής, στην οικία του Αντώνη Ιγγλέση με πάρα πολλές εκπλήξεις!
Κλείνοντας ένα μεγάλο ευχαριστώ στους χορηγούς και στους φορείς της τοπικής αυτοδιοίκησης που συνέβαλαν στην επιτυχή ολοκλήρωση του Αγώνα. Και φυσικά σε όλα τα στελέχη της οργάνωσης και τους τοπικούς σαμιώτες φίλους για την αμέριστη βοήθεια τους. Ραντεβού σε 2 χρόνια, στο Tour de Samos 2021!